A Little History
High Prairie Pottery is not a new business. We started the business in 1973 as a way to earn
extra school money from summer arts and crafts shows. But, while the business is not technically new, it's been redesigned in new ways and stays fresh through time.
In 1976, we started the business "full time" (an understatement) in Blackfoot, Idaho. We kept the name and have been making pottery (or at least objects from clay) off and on ever since.
The name "High Prairie" is an actual place in the mountains of central Oregon, near
Oakridge
. Actually, it's more near
Westfir
. Westfir has shrunk to a mere hiccup in the road...but it remains a

beautiful

place. When I was born there, Westfir was a small but thriving little "company town" with its own lumber mill, a teacherage (I'll let you look that up) and lots of families I always considered to be friends. The Doctor who delivered me dabbled in the Veterinary arts also. My Dad coached 6-man football. The story goes that they would give me a basketball and put me on the floor of the gym as half time entertainment at the B-ball games. It was a small town. My parents dragged me to California when I was just five years old.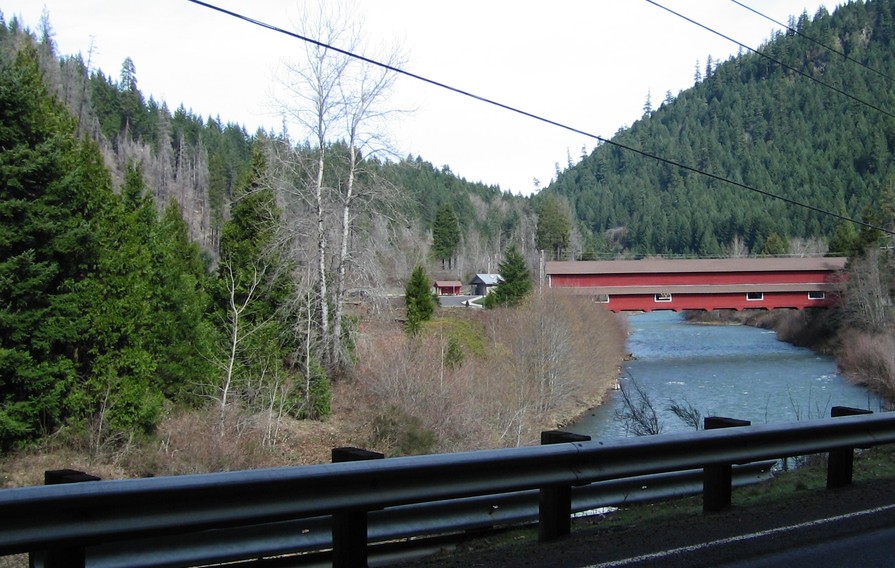 This is the covered bridge in Westfir, OR
LickinFlames is a brand of

High Prairie Pottery. The name LickinFlames comes from the unique characteristics applied to the individual pieces by the flames "licking" across the pieces in the kiln and in the post firing processes. Control Freak that I am, it took a while for me to be able to give up some control to the flames. It seemed appropriate to name the brand after them.

Through the years, we've done arts and crafts shows on the lawns of local libraries, strip malls, indoor malls, street fairs,

renaissance

fairs and even in back yards of friends and family...we called them "pot parties." At one point we started selling wholesale with sales representatives at seven major wholesale gift markets. We supported 335 accounts in 37 states and had as many as nine employees. We've been route of hydraulic pressing, forming upwards of 500 pieces a day and we've had studios in single car garages, double car garages and in a 3000 sf facility.
I have my degree in ceramics from the University of Idaho. I was one of the first to receive a degree in ceramics from there. Along the way I worked myself into "minors" in jewelry, sculpture and piano performance (really...piano performance)...and married my best friend, Brenda.
It was during a one year break from Idaho to take care of my diabetes that I was able to take a class in pottery at what was then Diablo Valley Junior College. It was like being grabbed by the throat. I love clay...period. I was a music major prior to that but clay rather abruptly pushed the music major idea aside and dominated my world.
Oh, don't get me wrong, I have other interests. I like to play English Handbells and work in my gardens (mostly edible foods or dye material for wool), fish for trout in Montana and play in Irish sessions with my B/C button box. But the darn clay really defines me.
I
had someone the other aks me if I had pictures of my work on the internet. Well...I have new stuff on there of course (I mean doesn't everyone have a digital camera of some sort) but the earlier years were all taken analog and are in the form of slides, paper and of course film. As I find pockets of pictures I've been digitizing them and putting them on
this site
. Yes, I'm that old.
So, while I've had other careers and businesses through the years (the fish hatchery with 260 aquariums is a story in itself), I've come back to clay a number of times. Sometimes I come back to see if it still attracts me and being the addiction that it is, I should know better. I still have a Robert Brent potter's wheel with a serial number of "72" and just have never been able to let it go...so I use it from time to time.
Now I'm using the wheel more often and am enjoying clay full time again. For kicks I decided to work from a more modest studio than in the past. My current studio is 10 feet by 12 feet which is considerably smaller than even those single car garages of old. I'm a little more connected than 40 years ago too. Think about it...personal computers were not available when I started with clay. Now I find no need for a hardwired home phone and use my cell exclusively (when I remember to turn it on). I was thinking about it the other day...my cell phone has a memory that is 1500 times more than my first office computer...so while life and the work continue to evolve, the clay is the same and for that I'm very thankful.